Our Story
Jackie & Todd...Friends to Forever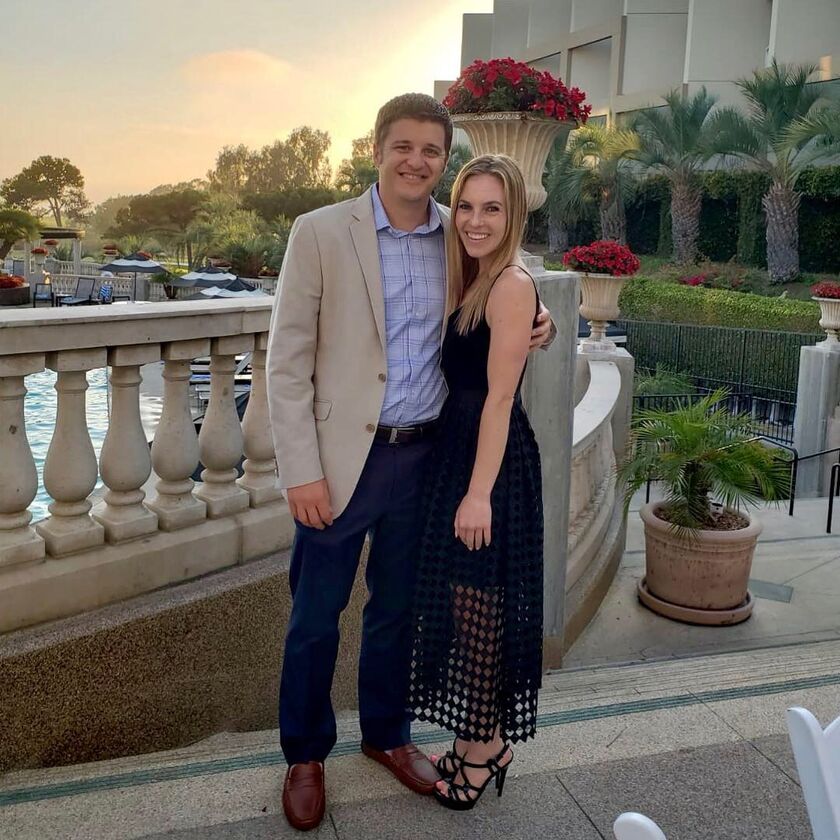 Jackie and Todd met in the summer of 2013 when they both played on a Vavi softball team. Jackie was 22 years old, had just graduated from undergrad at Emory University and started her long journey to becoming a Registered Dietitian. Todd was 32 years old and had already been working in Medical Devices for 10 years. They both were a part of the same circle of Jewish friends in San Diego and would see each other at various functions, but never spent time together one on one.
Fast forward to June 10, 2017, Jackie attended the NextGen Showcase where Todd was greeting the guests at the door. She stopped to chat with him, caught up for a few minutes, then made her way to her table. Later that evening, Jackie and Todd were both standing in line at the bar and continued to catch up, just as normal friends would do. But little did they know, after hours of talking about their love for family, friends and Jewish identity, the sparks began to fly. At the end of the night, Todd walked Jackie to her car and mentioned they had never hung out "one on one" and asked her if she wanted to go on a hike together the following weekend. After two months of spending quality time together, Jackie and Todd finally decided to officially date. Todd stood unconditionally by Jackie's side during her intense 11 months dietetic residency at the VA La Jolla, and after graduating and passing her RD exam, she moved in with him. Before Jackie moved in with Todd, they went to Portland together to celebrate her officially becoming a Registered Dietitian. It was that very weekend that Jackie knew she was going to marry Todd and spend the rest of her life with him.
The Proposal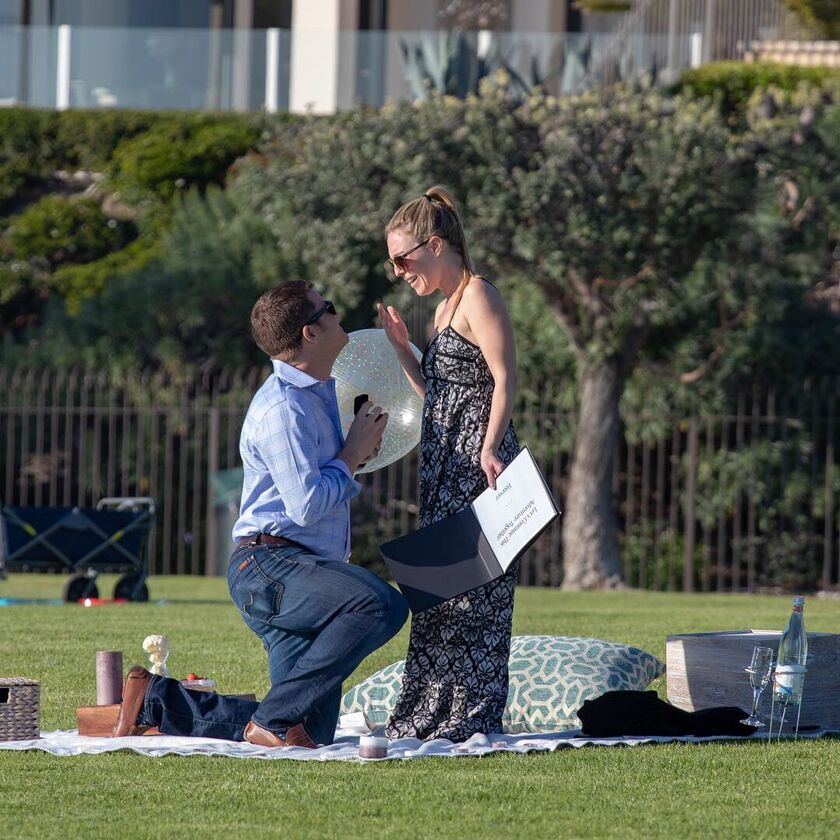 After sharing many adventures together over 2 years and living under the same roof, Todd knew it was the perfect time to propose to Jackie. On Friday March 15, Jackie's 28th birthday, they celebrated with both of their families. They drove up to Dana Point the next day where they would spend a quiet birthday weekend together, just the two of them. Little did Jackie know, the birthday façade was actually a cover for Todd's proposal, as he had everything planned out perfectly and meticulously.
They spent Saturday March 16th walking around the Dana Point Pier and enjoying the beautiful scenery. Later they checked into their quaint boutique hotel and Todd asked Jackie if she wanted to go on a walk before dinner. As they strolled through a beautiful park along the glistening ocean, they approached a picnic blanket which was set up with Jackie's favorite snacks, fruits, hummus and veggies. Jackie thought it was so adorable! But then she noticed there was a large book with a picture of her and Todd set up in front of big birthday balloons -- the set up was for Jackie's birthday! As they approached the picnic blanket, Jackie was over the moon that Todd had made her the most thoughtful birthday surprise...a picture book filled with memories from all of their adventures together. Once Jackie reached the last page of the book, it read "And I can't wait to continue this adventure together...FOREVER." Todd stood Jackie up and got down on one knee. Jackie immediately said yes and Todd's two closets friends, Aaron and Evan, were secretly documenting the entire proposal on their cameras from behind the bushes!
Jackie and Todd were overwhelmed with love, joy and happiness--they were engaged! They immediately called and FaceTimed their family to share the wonderful news. Todd and Jackie spent the rest of their evening together, as a newly engaged couple, while they enjoyed a romantic delicious meal together at the Monarch Hotel. The next morning, Todd and Jackie went for a sunrise walk as they both couldn't sleep since they were so excited. After they enjoyed a whale watching boat excursion then began their drive home back to San Diego. Once they walked through the door, Todd surprised Jackie, yet again, as their 18 family members greeted them with a warm welcome and beautiful lunch spread. Jackie had no idea Todd had planned out every moment of their weekend which went perfectly.
After 6 years of being friends and 2 years of dating, Jackie and Todd can't wait to get married in front of their closest family and friends and start their lives together as Mr. and Mrs. Kirschen!